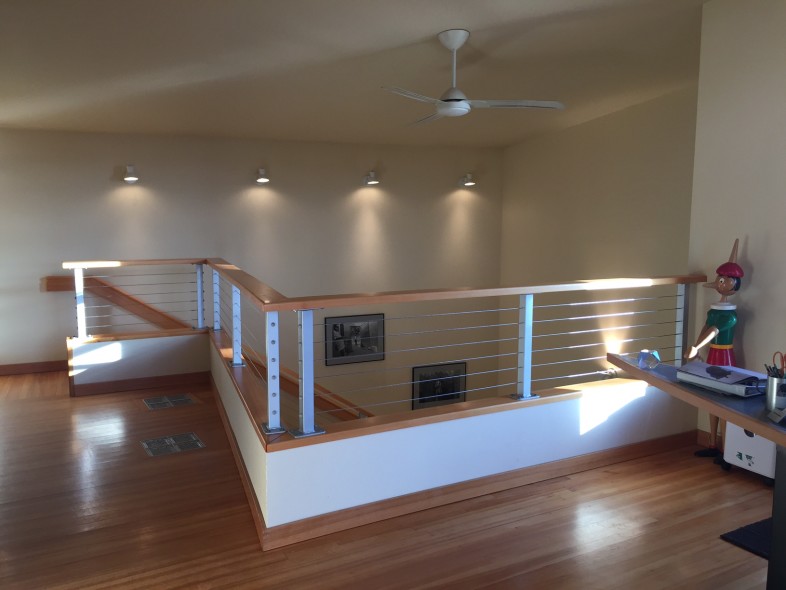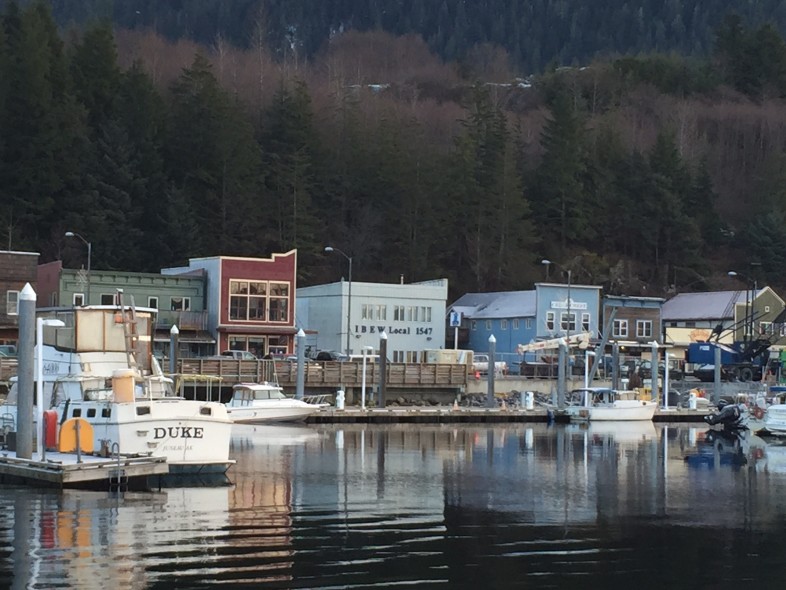 True North: 309 Stedman Street
KETCHIKAN, ALASKA
TRUE NORTH DEVELOPMENT LLC
The recipient of a design award from the Alaska chapter of the American Institute of Architects, the new two-story commercial building on a small narrow lot across from Thomas Basin boat harbor features ground floor retail space with offices above.  Following design guidelines for the Stedman-Thomas Historic District developed by Millard+Associates Architects, the new building was sited along the sidewalk to retain a strong street edge, has similar height and weight to adjacent structures, a sheltering marquee, storefront windows, and metal and wood siding.  The use of local wood products was a focus for both the interior and exterior finishes.
Located within a historic district on the edge of the downtown waterfront in Ketchikan, the mixed –use True North Building reinforces the traditional commercial and maritime buildings of the neighborhood. Based on proposed design guidelines for the area, the True North Building continues the tradition of the strong street edge, false front façade with storefront retail, narrow building width, and two story height. Traditional design elements and materials such as locally milled cedar channel siding, large double-hung windows, base and cornice trim, and a marquee over the sidewalk provide a link to the past while still being recognized as a product of present. Corrugated metal siding covers the exterior walls on the sides and back, reflecting the marine industrial traditions of the area.
The two-story 2,125 sf building fills most of the irregularly shaped 1,420 sf lot. The ground floor retail features wares from the sea, tying the use of the building to the fishing boats visible from the large storefront windows. Interior materials are simple and basic- exposed concrete floors, wood doors and windows, and painted wood trim. An exterior wood walk covered by the marquee leads to the entry for the offices above. The two-story entry foyer and informal conference room functions as a gallery for local artists, with an open wood stair leading to the second floor workspaces. The ceiling height mirrors the slope of the simple shed roof, opening up to large windows to the south with a view of the harbor. With only a few demising walls and sliding doors, the parallelogram shape of the building is reveled, and slightly angled walls enliven the space. Locally grown and milled hemlock and yellow cedar are used throughout the interior for the flooring, stairs, trim and railings. The building was the recipient of a design award from the Alaska chapter of the American Institute of Architects for design excellence.